Valued Clients
90% of Julie's clients are referred from another client. The work of an Executive Coach is complex, sensitive, and required skilled agility to work through the situation needing attention. trusted client. Julie is the trusted sounding board for executives, leading and navigating sensitive and critical decisions.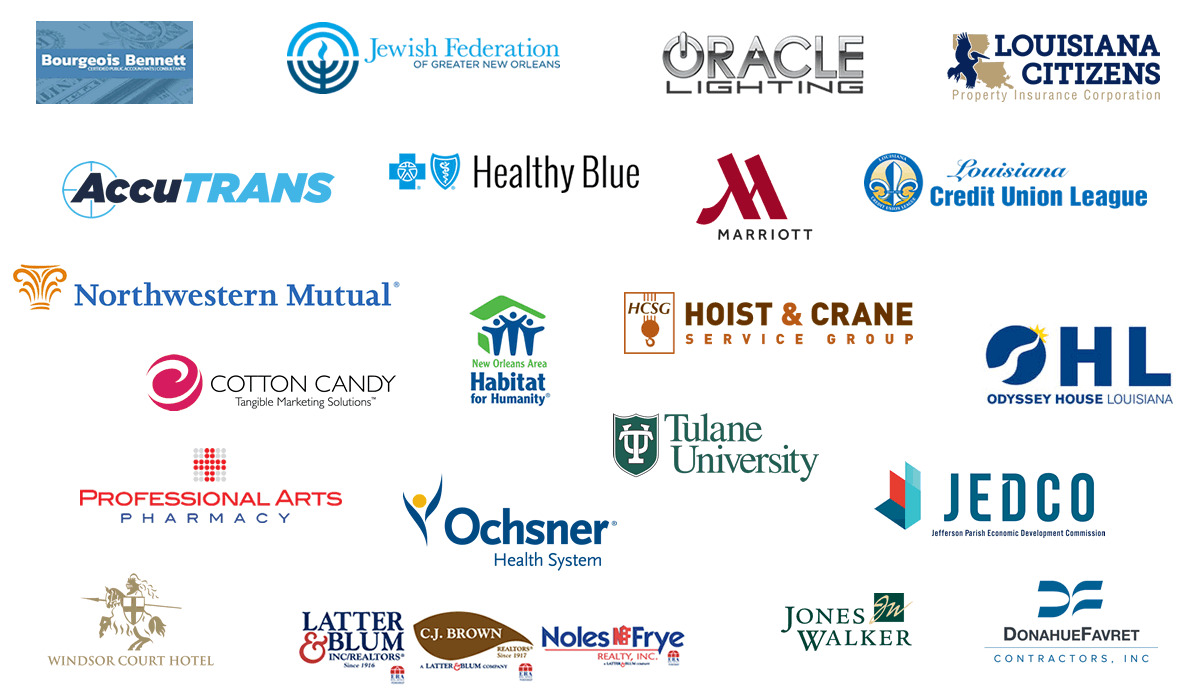 Ochsner Health System
AccuTRANS
Donahue Favret Contractors, Inc.
Entergy
M&A Safety Services Training
Jefferson Economic Development Commission
Marriott, Convention Center New Orleans
Flexicrew Technical Services
The Sheraton Hotel
Odyssey House New Orleans
Atmos Energy
Bourgeois Bennett CPA
Nolan Power Group
Jones Walker Law Firm
New Orleans Hotel Collection
Habitat for Humanity, New Orleans
Expotel Hospitality
Oracle Lighting Technology
La Citizens Property Insurance Corporation
Latter and Blum Family of Companies
Professional Arts Pharmacy
Windsor Court Hotel
Tulane University: Office of Environmental Health & Safety
Tulane University: Office of Financial Aid
Tulane University: Facilities Services
Tulane University: Workforce Management Office
FSC Interactive
Southern Eye Bank
Hedge Media Group
Curry and Friend, PLC
Dial One, Franklynn Pest Control
Loyola University, Career Development Center
Loyola University, School of Business
Northwestern Louisiana University
Public Relations Association of Louisiana
American Advertising Federation
American Bar Association
Louisiana Veterinary Medical Association
Towing and Recovery Management Summit
Bayou Society of Human Resource Management
Project Management Institute of New Orleans
Association of Talent Development, Baton Rouge Chapter
Women's Success Conference
GNO Hotel & Lodging Association
La Credit Union League
La Nurse Practitioners Association
La Medical Group Management Association
Public Relations Association of La
GNO Apartment Manager Association
Jewish Federation of Greater New Orleans
Association of Legal Administrators
Association of Fundraising Professionals
Odyssey House Louisiana
New Orleans Fireman's Federal Credit Union
The Hotel Monteleone
InterContinental Hotel Group
Meeting Planners International
Hoist and Crane Service Group
Northwestern Mutual
Cotton Candy, Inc. Canada
WYES
Apartments by Tonti
Emergency Restoration Inc.
Jefferson Chamber of Commerce
We utilized Julie's talents in the development of our leadership institute's faculty certification program.  She helped us design the curriculum for the presentation skills component as well as develop the content for the program. Her contagious enthusiasm, facilitation skills, and engaging demeanor helped lead our program to success.  Julie offers an energetic, yet focused approach to instruction and facilitation that is impactful and resonates well with leaders at all levels. She is poised and professional, and we enjoyed working with her and look forward to more opportunities to do so.
We began using Julie's services in an effort to further develop our managers and assistant managers in their leadership roles. Julie is very engaging and people instantly felt very comfortable with her. Our staff was very pleased with the coaching and development she gave them, and she continues her work with other departments to this day.
In a time where everyone is a "consultant" Julie is the real deal, who has this knack to quickly and accurately understand her client's unique culture and circumstances.

She's committed.

Julie rolls up her sleeves and gets dirty with us. And she delivers.
You know when Julie is in the room. Every meeting is energized with her enthusiasm. She is the catalyst to defining goals and assigning accountability. As an executive coach she cuts through the noise and gets to the decision. Her talents are what the doctor ordered.
Julie and her team made a world of a difference in our organization here at Nola Motorsports Park. Since we started working with her, our customer service experience has received nothing but positive feedback from all our stakeholders. More importantly, they helped us to solidify the buy-in every single employee has now and for the future of Nola Motorsports Park, which has lead to more productivity and very happy employees and managers. Thanks again!
Julie Couret is a dynamo! I had the pleasure of meeting Julie when I first arrived in New Orleans at a Chamber of Commerce event. Since our initial meeting Julie has been an indispensable asset to the New Orleans Baby Cakes Baseball Club as a member of our Advisory Council. She has assisted the organization through a significant rebranding project by offering her insight into the local culture, both business and social of the Greater New Orleans Region. She is an exceptional business person, a leader, a mentor with years of experience that can help take your cause or business to greater heights. I strongly recommend working with Julie Couret, in either the local or global marketplace.
Julie is the coach you can count on! Julie responds and acts swiftly when needed, helping her clients through all stages of performance management. She is accessible and does not limit support to her clients with micro-managed hours or pre-scheduled meetings only. Julie is relatable and is able to quickly understand how she can help get the job done.
Get leadership development delivered to your inbox.